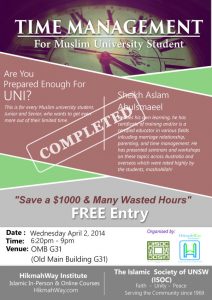 Are You Prepared Enough for UNIVERSITY?
This is for every Muslim University Student, Junior or Senior, who wants to get even more out of their limited time.
The Speaker Shaikh Aslam Abu Ismaeel
Besides his own learning, he has certificate of training and/or is a certified educator in various fields including Marriage relationship, Parenting, and Time Management.
He has presentd seminars and workshops on these topics across Australia and overseas which were rated highly by the Students, Mashallah!
This short course is specific for University students though others may benefit a little. It covers strategies to manage time and University workload to enable students to get best performance and results they can without stressing out or cramming on the last minute. This also touches very briefly on Project management strategies relevant to University assignments.
Cities :  Curtin University, Perth    &  University of NSW, Sydney
Organised by :  HikmahWay Institute