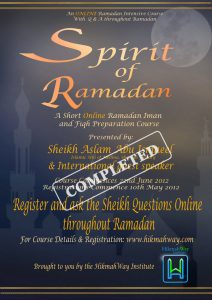 An ONLINE Ramadan Intensive Course with Q & A throughout Ramadan
Spirit of Ramadan
What you will gain from this Course:
Discover the merits and rewards of Ramadan, Fasting, Itikaf, Tarawih.
Learn the essentials of Fiqh of Fasting, Tarawih, Itikaf and Eid.
Be able to help other Muslims during this Ramadan about their questions.
Listen to motivating Islamic online lectures during Ramadan.
Best of all, you can ask questions about Ramadan issues during the whole month.