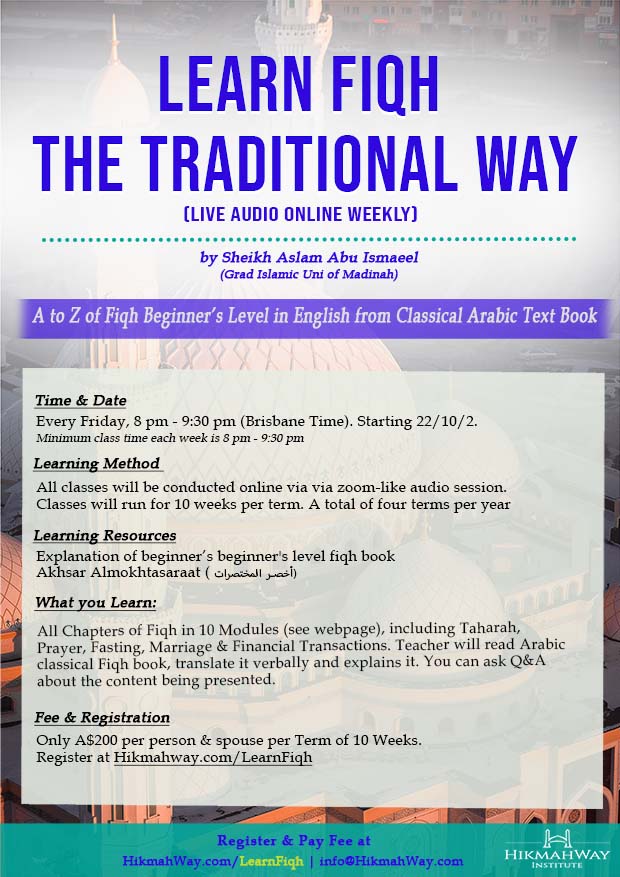 Learn Fiqh The Traditional Way
Live Audio Online Weekly
by Sheikh Aslam AbuIsmaeel
This is explanation of beginner's level fiqh book Akhsar Almokhtasaraat ( أخصر المختصرات)
What you get from this Fiqh Course?
Understand everyday Islamic practices and their rulings on topics covering our entire lives from worship to family life to financial transactions we conduct daily! Please see details of modules below.
Your Teacher:
Sheikh Aslam Abu Ismaeel (Graduate Islamic Uni of Madinah)
Time & Date:
Every Friday, 7:30 pm – 9:00 pm (Brisbane Time (no day light saving time)). Minimum class time each week is 7:30 pm – 9:00 pm
Learning Method:
All classes will be conducted online via zoom-like audio session. Classes will run for 10 weeks per term. A total of four terms per year
Modules:
Module 1: Taharah (Ended on 24/12/21)
Module 2: Prayer + Janazah (Cancelled)
Module 3: Zakat
Module 4: Fasting
Module 5: Hajj & Umrah
Module 6: Sales & Finance
Module 7: Inheritance
Module 8: Marriage & Divorce
Module 9: Civil Conduct
Module 10: Justice & Arbitration
Term 1 will begin with module one and we expect to finish all the ten modules in 4 to 6 terms inshaAllah.
Fee & Registration:
Only A$200 per person & spouse per Term of 10 Weeks. Register at Hikmahway.com/LearnFiqh
Only A$200 per person & spouse per Term of 10 Weeks
7:30pm - 9:00 pm Brisbane time.