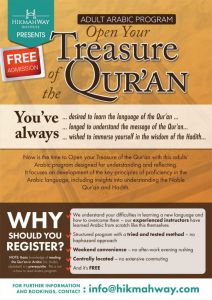 Open Your Treasure of The Quran
by Sheikh Aslam Abu Ismaeel
Now is the time Open your Treasure of the Qur'an with this adults' Arabic program designed for understanding and reflecting. It focuses on the development of the key principle of proficiency in the Arabic language, including insights into understanding the Noble Quran and hadith.
HikmahWay Arabic Class
FIRST CLASS IN
About the course
You've always dreamed to
Learn the language of the Quran

Longed to understand the message of the Quran

Wished to immerse yourself in the wisdom of the hadith
Then, HikmahWay Arabic Course InshaAllah is the course that will take you further in understanding the Quran.
Pre-requisite
Basic knowledge of reading the Quran in Arabic

Determination and love to understand the Quran  
Course Structure
The HikmahWay Arabic Course is offered every Sunday beginning on the 2nd of February 2020. The course will follow the Queensland School term system. Therefore, each year, there will be four terms and the contact hours per term is 30 hours each term
Course Material
Student are required to purchase Medinah Arabic Book 1, Book 2 and Book 3. This can be ordered via HikmahWay
Every Sunday 1 pm to 4 pm
Register Your Interest
Registration closed