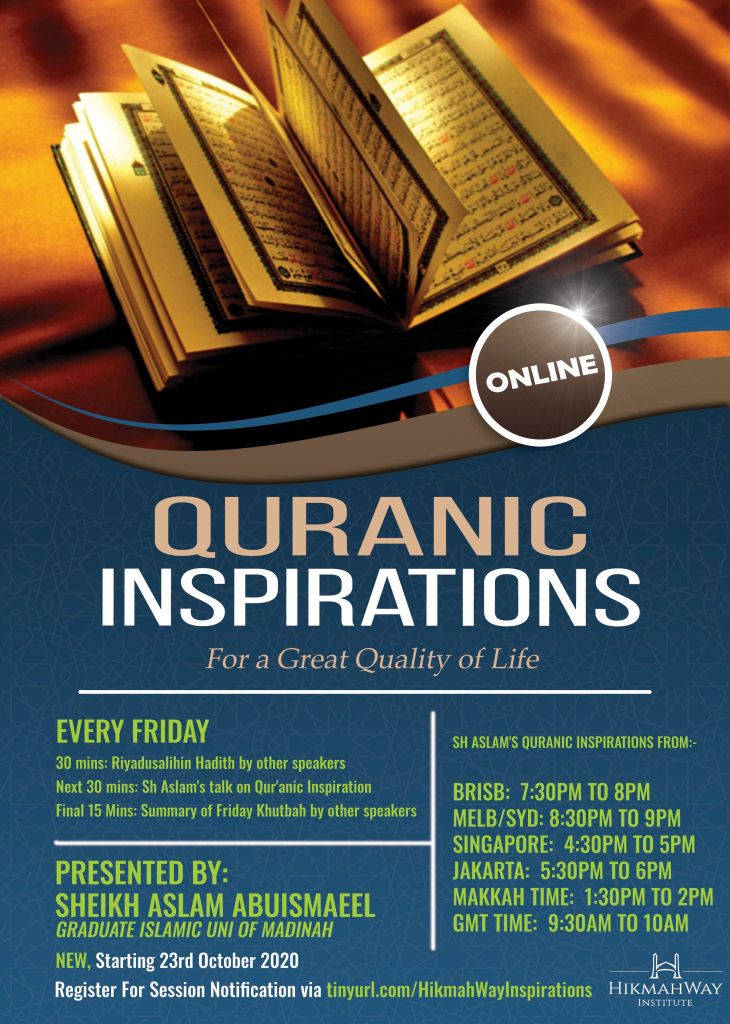 Quranic Inspirations
For a Great Quality of Life
by Sheikh Aslam AbuIsmaeel
We probably don't realise that during the day, every day, we receive messages about how to think, dream and behave for a great life – yet most of this are mere ideas of people, often not pious people!
Join us each Friday Nights online for half hour to hear Sheikh Aslam redress the balance in what we hear all weak, and replace it a little with real life related ideas via Tafsir of selected verses of Allah that fill our hearts & minds with Qur'anic Inspiration for a Greater Quality of Life! Remember to attend this, 30 mins every Friday!
Presenter:
Sheikh Aslam Abu Ismaeel (Graduate Islamic Uni of Madinah)
Date:
Every Friday Starting 23 October 2020
30 mins: Riyadusalihin Hadith by other speakers
Next 30 mins: Sh Aslam's talk on Qur'anic Inspiration

Location:
Online via Zoom Platform. See instruction at the end of this email.
Time of Sheikh Aslam's 30 mins Part on Qur'anic Inspiration:
Weekly on Fridays at:-
Brisb: 7:30pm to 8pm
Melb/Syd 8:30pm to 9pm
Singapore: 4:30pm to 5pm
Jakarta: 5:30pm to 6pm
Makkah Time: 1:30pm to 2pm
GMT Time: 9:30am to 10am
Please note: These times are of Sh Aslam's 30 mins talk. But other Speakers' part starts 30 mins before that.
Register Your Interest
[contact-form-7 id="5188″ title="Register For Arabic Course"]